"Have yourself a merry Christmas, let your heart be light. From now on, our troubles will be out of sight." From our home to yours—-Here are the lyrics to one of the songs I enjoyed playing on the piano while volunteering this past year at the Good Shepherd Hospital. It was a year filled with family, fun, and volunteering.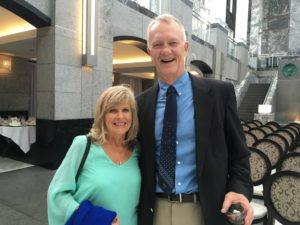 Our grandchildren are sure making us feel old. Larry affectionately called them "ankle-biters" but now I'm the "ankle-biter" being the shortest of them all. August (17) Jasper (15) Isaak (13) continue to love the Montana snow with passes to Bridger Bowl. They are turning into mountain men with Aaron leading them up steep mountain climbing adventures. August will be going to Germany with class members. Aaron and his wife Lynelle will take off to Maui this February for an Art Workshop/Show and a long-awaited first-time honeymoon.
Geoff and Julie, fortunately, live in Chicagoland. They stay busy with their jobs and raising Elliot (13) and Natalie (11). Elliot plays soccer year-round and both are excellent students while they continue to master the Chinese language.  Natalie loves singing with the Chicago Choir and playing the piano. We have enjoyed many soccer games and musical recitals this past year.
In 2017 we traveling to Montana, Florida, and Tennessee. We are thankful to still be able to hike up mountains and participate in the Hilly Hundred Bike Ride. Larry, now a cowboy, volunteers with Brave Heart, an organization that uses horseback riding as therapy for veterans and those with special needs. He also volunteers with his buddies at Conference Point/Lake Geneva Youth Camp where there is never-ending construction work. I still volunteer at the Willow Creek Care Center and continue to write for non-profits. We both started volunteering with Humble Design, a Chicago based organization that turns a house into a home for veterans and single-mothers and their children.
The culmination of this year has been the production of a Nativity Play entitled A Gift to Remember. We wrote it a couple of years ago and each year we add more and refine it. Here's a picture of some of the cast. It was performed in downtown Wheaton where people from the community and neighboring churches gathered to remember The First Christmas.
Our motto is to Seize the Day and to remember that—-"It's more blessed to give than to receive" John 13:15. Happy New Year to all my dear friends and family. You can keep up with us during the year on Facebook Sue Schuerr/Larry Schuerr or see my blog www.lifewithlarry.org. Our email is [email protected]. Let's stay in touch.