Now that our daughter, Julie, and her family are going to Canada this summer, I thought I'd post our adventure  in 2013. We drove to Ottawa and then to Quebec City. It was a North America European experience. But before we got there, we took a boat ride and a scenic hike which included both of us jumping off a 15 ft. cliff.  Larry jumped off and forgot he had Canadian money in his pockets; so now he is feeding the fish. The rest of this entry is directed towards my grandchildren but gives you some insight into the provinces.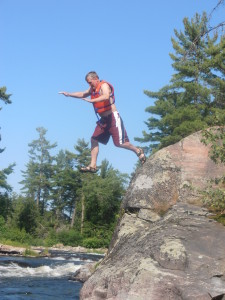 You'd enjoy seeing the money here especially the $5 bill that has a picture of kids playing hockey. It looks like toy money but it is very much like our $5.00 bill. The exchange rate is close to the same by a few pennies to the Canadian advantage.
Ottawa was our second place to stay. We toured the friendly city by bicycle. Ottawa is the capital of Canada. There are canals running through it with a bicycle path all around it. There are many old picturesque buildings here—the Parliament building is where the government is located. Next to the Parliament is the Supreme Court building. We met a man who spent some time in jail before he turned his life around. Grandma talked to anyone and everyone. She conversed with to a high school student who said he works hard at the grocery store and then spends the rest of his time playing ice hockey. He said people come from all over the world including Russia and the US to play hockey in his town of Prescott/Russell. He hopes to be a professional someday. Ottawa's border is shared with Quebec. The people in Quebec speak French and have talked about seceding from Canada because the Canadian people are connected with Britain and honor Queen Elizabeth II. Their loyalty is to France. When you study history you will find out that France and England have always been at odds with one another. The man we talked to from Quebec said they were thinking of seceding again since the vote to do so was so close at the last referendum.
I have been studying French while on this trip.  I took two years of high school French and one year of college French. But I haven't used it in years. Being here in Canada, everything is in English/French. It's a great opportunity to learn again. In Quebec the signs are only in French. Grandpa is doing fine following the French road signs .  He drove in Italy so he can drive anywhere with attitude.
We love getting a cup of coffee at Tim Horton's. It's the Mc Donalds of Canada. Grandma tried ordering in French but Grandpa was impatient for his coffee and there was a line. We finished the order in English.
Ottawa had a free light show on the Parliament building. It was wonderful—I never saw anything like it. They told a story with pictures accompanied with English/French dialogue. It was about the diverse  provinces, the Indians, the various Olympic stars, celebrities and the animals like caribou, seals and whales. We all clapped with enthusiasm and respect for this great country.  Canada claims to have a heart for all people no matter where they come from. It was a wonderful show that gave us a superb education. We talked to a man from Pennsylvania who said he likes the Canadian people because they are not so viciously angry about politics and religion.
We are now on our way to Quebec City. It is like a European city. Tune in next time.