"Life is not measured by the breaths we take; but rather by the moments that took our breath away."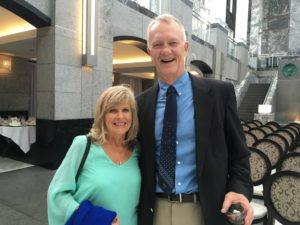 We are getting ready to celebrate a big event, our 50th Anniversary. It's a milestone we want our adult children and grandchildren to remember. We will be celebrating it in the Bozeman, and Livingston Montana area where our eldest daughter and youngest son live. We are flying out our middle daughter, Julie, and her family. Our hope is that they will all learn from our example of a good marriage and a productive life.
How did Larry and I meet? Let me take you back to the field house at Northern Illinois University in 1965 where I felt a large, warm hand gently grasp my neck. It was Larry who I had recently begun dating. There was something about his touch that was protective and secure. I turned around and looked up into his beautiful eyes. He walked me to my dorm and pretended to slip and slide on the icy terrain bumping into me and causing instant laughter. Three years later, I began my 'Life with Larry'. Our marriage has been filled with humor and adventure. Practical jokes abound with each other and with our family. Each night, when nature calls, I get up around 2 AM and when I come back to bed, I often see my pillow go sailing down the hallway. I get even by filling his pillowcase with shoes and other odds and ends. Laughter is a medicine for the soul and an essential ingredient in a vibrant relationship that washes away the daily problems of life.
Our marriage is far from boring. Larry is my trailblazer setting us off in on one direction or another. Our partnership has included a tandem kayak, a tandem bicycle and more recently, a shiny black Goldwing motorcycle.  As retired teachers, we have devoted ourselves to volunteering for various organizations. We continue to challenge ourselves. Larry is learning to horseback ride with Brave Heart and I am learning Spanish to better equip myself to serve in a nearby care center. I also play the piano weekly at our local hospital.  Larry and I have a deep love that conquers all even our latest trial as Larry prepares for back surgery soon. That love has grown by serving one another, by putting one another above ourselves, and by forgetting who is right or wrong.  We try to follow what the Bible says. "Don't let the sun go down on your anger." But, often, we just agree to disagree.  The words of the Bible continue to be our source of guidance because it never changes, unlike the latest counseling advice. Laughter fills our home and we miss one another immensely when we are apart. "Laughter is an instant vacation." Milton Berle  
                                                Be sure to take a trip there often.