"Life's journey is not to arrive at the grave safely in a well-preserved body, but rather to skid in sideways, totally worn out shouting, 'Oh my God, what a ride.'" It has been that kind of year filled with many activities. Instead of being in beautiful snow laden MT this Christmas, we are home because of Larry's meniscus knee surgery and our involvement in a Nativity play with Jonahre Foundation. We are gearing up for our last performance this Saturday at Egg Harbor Restaurant in Barrington. It's a live nativity with a camel and lots of sheep. Larry and I didn't like the scripts we saw on line so we wrote our own. This experience has brought us back to the theatre days at Cary Grove High School where we teamed up directing the school plays.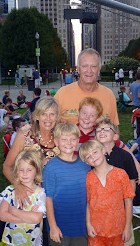 The year 2015 was a whirlwind of activity beginning with New Years in MT with Aaron, Lynelle and our three grandchildren—August, Jasper and Isaak. August loves aviation and had a chance to fly a real plane. Jasper loves physics and playing his cello. Isaak is very athletic and loves his French horn.
Elliot and Natalie drove out to MT with us this past summer so we could have a cousins' reunion. It was so exciting to have them all together along with their Aunt Deborah. Elliot and Natalie are amazing readers. Elliot loves soccer and Natalie has been in several recitals playing the piano and singing.
One of the highlights of the year was our trip to Costa Rica with International Teams last March. We worked on building projects on their lovely campus filled with flowers and fruit trees. My job was to teach English classes to a couple Latin American women. What a wonderful way to make international friends for life.
I continue to keep my connections with District 155 by subbing when needed and Larry spent a lot of time volunteering with Love INC and Conference Point, a camp on Lake Geneva. Whoever said retirement is boring? We wake up to our coffee and ask God this question,"What do you have for us to do today?" There is always something. "For we are his workmanship, created in Christ Jesus for good works, which God prepared beforehand, that we should walk in them." Ephesians 2:10.
We hope you have a wonderful Christmas and a Happy New Year. Remember life is more than going through the motions of making a living, etc. You are unique just like your fingerprints and created for a purpose. Jesus said, "I am come that you may have life and more abundantly." John 10:10. Go for that abundant life and don't settle for anything less.
Welcome growing older and in Larry's words remember the following, "Old age and treachery will always win out over youth and vigor." So smile at the future. We love to post our pictures on Facebook under Sue Schuerr and Larry Schuerr. We also have a blog called www.lifewithlarry.org. Please stay connected and stop in and visit when you are in the area.
Love, Sue and Larry Schuerr/Christmas 2015