"Fear is only as deep as the mind allows." Yesterday, as part of our  Christmas present to our grandkids, we took Natalie and Elliot downhill skiing with their dad up at Wilmot in Wisconsin. It was the warmest day in over a week of below 0 temperatures.  As a result, a record number of our best friends joined us on the hills.  Finally, we made it to the magic carpet where Nata's lesson began. Geoff and Elliot took off for higher terrain while Larry and I started teaching Nata the fundamentals of skiing. She listened carefully and progressed quickly to the chairlift. Now skiing for me was not as difficult as learning the fundamentals of the chairlift.  The first time I skied, in my 30's, I was told to wait until my feet touched the ground to get off the chairlift. Being less than 5 ft, I  never touched the ground, and I could see vividly the hills of unknown destination ahead. As we started to make a turn,   I did the most sensible thing, I jumped off. Fortunately, I was ok but this memory has always stuck with me. I wanted to make sure Nata knew how to get off the lift which she navigated well. Lesson 1-We  learn from our mistakes. 
"Point in the direction you want to go," said Larry as he gave Nata skiing instructions. "Go across the hill and not straight down." Before we knew it, she was making perfect turns. Lesson 2-Don't bite off more than you can chew. Take one step at a time. To reach your goal,  set much smaller ones to achieve first. Now Nata was developing some self-confidence. She knew we had her sandwiched in with Larry ahead and me in the back. She was protected and assured of protection. Lesson 3-Find a mentor to help you reach your goal. I remember skiing at Steamboat, which was a big step from skiing at Wilmot. My friend and ski instructor, Cleora, was in front of me and my friend Lynn, an experienced mountain skier, was behind me. I skied better than I ever did because of my mentors and those who believed I could achieve success.
After lunch, Elliot wanted to head off to the terrain park which takes the skills of an advanced skier. When Nata saw the hill, she froze and started to whimper. It was too much too soon. Lesson 4- Set attainable goals in your comfort zone. We took off our skies and made our way back to a familiar hill.  It was a "green". Toward the end of the day, we challenged Nata to try a "blue", a more difficult run. I said, "Let's just go over and look at it." You can always turn around and go to the easier hill." She said, "I think I just want to stay on the greens today." Larry said, "This is all in your head, Nata, you can do this one.  Trust me, You now have the skills to do the blue run. I know you are up for this one." Lesson 5-Trust your mentor and plunge into a challenge using your newly acquired tools.  With Larry leading and me following, Nata fought her fears and turn by turn mastered the difficult hill. She actually sped up at the end of the run, out of our control,  with arms up in victory. It was the end of a great day which will stay with 11-year-old Nata as she faces the future challenges of life knowing she conquered the blue.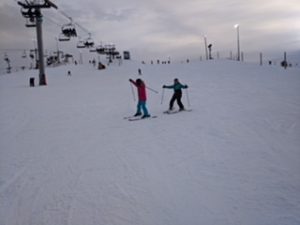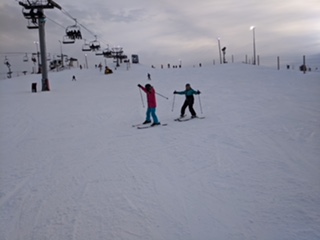 "For God has not given us a spirit of fear, but of power, love and a sound mind " (2 Timothy 1-7).