The Many Faces of Larry
At Sunset Beach in Fish Creek crowds gather for the big event—watching the glowing sun disappear over the Lake Michigan horizon where earlier we saw pelicans flying like pearls in the sky. Parents and children skip rocks and lovers embrace one another while gazing at the halo of orange and pink. Larry and Sue along with three female friends are ready to join the crowd for applause that begins with the sunset.
Somehow Larry got on the topic of hunting remembering the nightly jaunts of the deer crossing our yard nibbling our flowers and shrubs on their way to a save haven of soft underbrush where they nestle for the night. Our son, Aaron, is a hunter because that is what one does in Montana to get meat for the year. Larry has always longed to join him but the cost of the tags are too expensive. Over the past five years, we have seen the deer population grow exponentially in our suburban neighborhood.
Waiting for the sun to set is a celebration anticipating the guest of honor to arrive. The joyful atmosphere transforms strangers into friends. The picture changed abruptly as Larry explained loudly how he would love to hunt Bambi in his own backyard but he said, "My chances of killing a deer with a single bow would be close to impossible. An arrow would slow it down, but then I'd have to chase it through the neighborhood with a knife and slit its throat. I don't think the neighbors would appreciate that very much." The mental shift from a setting sun to a slit throat causes us to cringe. The man on the rock below us was squirming while eavesdropping.
Next, we drove into town to get ice cream when Larry suddenly pulled over to the curve and parked. He then took us to a circle of lilacs and told us to breath deeply. "It's the most pleasant aromatic smell. Isn't it wonderful? I just love it and had to share it with you," said Larry.
Our friend Lu, a counselor, burst out laughing saying to me, "One minute he is slitting Bambi's throat and the next minute he has us all gathered to smell the lilacs. What's that all about?"
Yes, Larry hasn't hunted anything more than a pheasant and cries first at the movies. My former Marine husband will stand up for the needy and oppressed, yet he will stop for a sunset and to smell lilacs—–the many faces of Larry.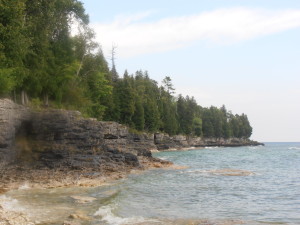 .