Sometime this year we hope to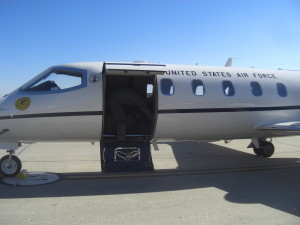 travel Space A again. We have been on a Lear jet twice from Washington DC to Scott Air Force Base in IL.   I could not travel without him; Larry put in the required time of over 20 years for the privilege.    He spent 4 years in the Marines as an air-controller and in the military police. He then joined the Navy reserves for 18 years and did most of his duties at the former Glenview Naval Air Station where he enjoyed playing many practical jokes on his friends.
We started flying Space A about 6 years ago as part of our retirement travel plan.  It has been the source of many adventures to various places like Germany, Spain, Italy and Hawaii.   We have been on a C5 and a C1-17 cargo medi-vac and twice on a Lear Jet.  But the most exciting was being   on a refueling tanker  We were able to lie on our stomachs and watch while our plane in mid air was being refueled. The pilot was a young woman with a blonde pony tail. We have enjoying getting to know servicemen and women. They tell us about their deployments and say they are glad to serve.
Flying Space A is not for the faint-hearted. You can have very long wait times and it may mean hopping around the US before reaching your destination. But it is a wonderful adventure that I thank God for letting us experience. It reminds me of one of my favorite verses in the Bible. "Even youths grow tired and weary, and young men stumble and fall but those who hope in the Lord will renew their strength. They will soar on wings like eagles; they will run and not grow weary, they will walk and not faint." Isaiah 40:30-