I'm looking out the window at a foot of accumulated snow on my deck table, and I'm thinking what good snow that would be to ski on but then I move to my indoor thermometer and see that it's only 4 degrees with a possible 6 degrees high for the day. It's an improvement from yesterday when the morning temperature was -6. It's a good morning to catch up on my writing.
By this time in February, Larry and I would have been up to Wilmot to ski numerous times and we would be making plans to ski out West; but this winter is different. Not only are we still in a pandemic, but Larry has had lots of back pain. He continues to volunteer at Humble Design/Chicago and at Conference Point, a camp in Lake Geneva but he returns home with lots of pain. The good thing is that he is scheduled for back surgery on February 22nd. Hopefully lifewithlarry will be more exciting after the surgery. But Larry doesn't complain and loves to cook and help the neighbors by snowplowing their driveways.
I'm excited about getting my first dose of the Covid 19 vaccine. Now, I will return to Good Shepherd Hospital not to play the piano yet, but to help with the vaccination program. I'm including my picture to show that it is safe and that I had no problems, not even a sore arm. If we want to put this pandemic behind us, we need herd immunity. I sure hope the vaccine will be available for you soon.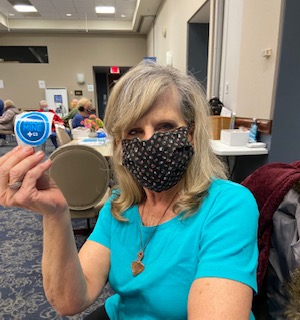 I remember Mom holding my hand while waiting in a long line at South Chicago Hospital for my polio vaccine. I would imagine that then like now there would have been many who were fearful of the vaccine but the results were wonderful—eradicating polio. Let's do the same with Covid 19 so it will be unable to morphe into something even more deadly.