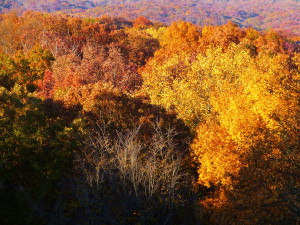 After we finish the Hilly Hundred Bike Ride near Bloomington, Indiana, we reward ourselves by spending a night or two at Brown County State Park. This nationally known 15,776 acre facility is a jewel in the Midwest. October is one of the best months to visit because of the beautiful foliage color change. The park is open all year round offering an abundance of activities including 18 miles of easy to rugged hiking, 20 miles of mountain biking, indoor and outdoor swimming pools, horse-back riding and the beautiful rustic Abe Martin Lodge which has 84 lodge rooms.
Our first morning, we had breakfast at the lodge which is located in a beautiful rustic setting. It's a lovely place to have a reasonably priced, excellent buffet while being surrounded by nature at its best—flowers, birds, deer and a variety of colorful trees.
Camping is available year-round, and the lodge is available for all. In the past, we have stayed at one of their family cabins near the lodge which includes sleeping for 8, a complete kitchen equipped with all the cooking utensils and linens.
If you want to feel like you are visiting Appalachia, step into the nearby town of Nashville, IN. It is a shoppers' delight with a variety of stores and restaurants. Get a carriage ride through town if you prefer.
Then return to Brown County State Park to experience the beauty and solitude of nature. If you live in the Chicago area as we do, the distance from the city to Door County or to Brown County is about the same—5 hours give or take. Of course, it could be up to 10 degrees warmer in Nashville, IN. This has been part of www.lifewithlarry.org/travels for years now.  Take time to enjoy the beauty of God's wonderful creation.  For more information, see the following:
Brown County State Park Online: dnr.IN.gov or call 812-988-6406.