Life with Larry took me to the Schuerr reunion in Fox Lake, IL on a warm, Sunday afternoon.. Larry greeted his  90 year old Aunt Esther by kissing and tickling her neck. He has greeted Aunt Esther in this manner over the past 30 years. She smacked him and said, "Stop it, Skip." Skip was Larry's boyhood nickname. Aunt Esther was always Larry's favorite aunt even if she was instructed by his mother to shave his head completely bald every summer.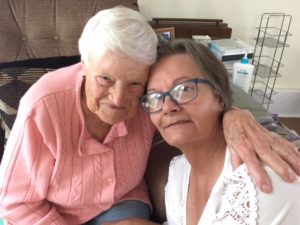 We soon noticed that smiling Aunt Esther was proudly holding hands with her 91 year old boyfriend, Emil. The lovebirds reminded us of high school sweethearts. Yes, Aunt Esther could easily write the recipe for life. Her laughter and teasing personality lightens up any room. She and Emil arrived in an orange, convertible Prowler like Cinderella going to the ball only accompanied by the prince. Emil sports two hearing aids and his sight isn't great, but Aunt Esther is his eyes and ears. When Emil was no longer able to drive, he would pick up Aunt Esther in a riding lawn mover and set her on his knee.
As late as last summer, she road on the back of John's Harley like a true motorcycle mama wearing only a scarf on her head. But now, Emil consumes most of her time. "I've been jilted by another man," laughs John while flipping burgers.
On Friday's her son, Jim, picks Emil and Esther up for a fish dinner.      "I sneak peeks from my rear view mirror and catch them smooching. What a role reversal,"  said Jim.
Watching Esther and Emil hold hands at the family reunion brought smiles to all our faces. Her recipe for life is simple. "You're never too old to love and be loved.". Regardless of ailments, the couple may well live to see their 100th birthday. Now that's an occasion for another Schuerr reunion, for sure.
Now for an update:
I visited Aunt Esther last week. She is now 96 and Emil 97. They still care for one another but see less of each other. Yes, they have their aches and pains but Aunt Esther's twinkly blue eyes and big smile brings a warmth to anyone who visits her.  She recently attended her 1939 reunion at Grant High School as the honored guest.  This woman is my role model as she shared with me her many life adventures such as down-hill skiing for the first time at 70, skydiving, horseback riding and tubing behind a boat. She loves people and has a zest for life that is rare these days. Hats off to Aunt Esther.
A brief biography of Esther Janseen Schuerr
 Aunt Esther had six children. Her second to the last one, Bobby, lived until 21 years old with cerebral palsy. Normally, a child in his condition would live  no longer than seven years.  But the whole family was trained to help Bobby who had to be hand fed and diaper changed. After his death, Aunt Esther and her husband took in an older gentleman who had no one.   He stayed with them until his death five years later. She also has helped raise many of her grandchildren and you can always catch her making a batch of chocolate chip cookies even at 96.