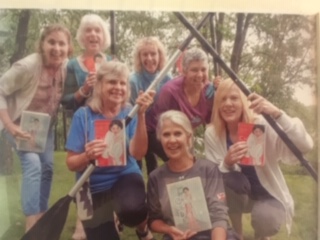 Today we will gather at a home on the Fox River for light snacks and a discussion of our latest book by Mark Sullivan's, Beneath A Scarlet Sky. Our favorite genre has been historical fiction, books about World War II. Considering that today, June 6th, is the anniversary of D-Day— it's appropriate. One of our members recalls her German grandmother having two pictures on her dresser—-one a nephew in a German uniform and the other her son, in a US uniform. They looked so much alike, it was hard to distinguish them one from another.
A book club is a fascinating way to learn about your group and to share history with one another. We are tuned into one another's lives throughout the month even though we only get together once a month. We even have a member over seas in Sydney, Australia who reads the same books we do and writes wonderful reviews.
Here is one she wrote for our book club today—straight from Sydney. Spoiler Alert.
Pino Lello, what an amazing man and what an amazing life. Being a huge Historical Fiction fan, I loved this book.
I kept having to remind myself Pino is still alive, while I sat clutching the book tightly, as Pino once again eluded death or capture.
Also, to my shame, I knew very little about this part of WW11, I knew Mussolini was a tyrant and he ended up being hung, I have seen those terrible photos.
But I was unaware of the dreadful toll put on the Italians by the Nazi's and the fascist fighters.
While the writing of Mark Sullivan didn't thrill me at times, I think he took poetic license to a new level at some points knowing the fact that Italian history is well documented.
I was so happy to read what had happened to the rest of Pino's friends and family, at the end of the book, it was also a really good way to tie the book up in a neat fashion.
I was devastated when Anna was murdered and wonder what Pino's later life would have been like if she had lived??? Did anyone else wonder about that? I feel he was so in love with her that he wasn't ever going to get a love to match it. I found it interesting that so many of the other characters received awards after the war for the but not Pino.
The author, Mark Sullivan, is from Bozeman, Montana where my daughter lives and where my son used to live. He now lives in Livingston, on the other side of the mountain pass. But his art work is at the Montana Trails Gallery—www.aaronschuerr.com. I am hoping to meet the author while I'm visiting my children and grandchildren.