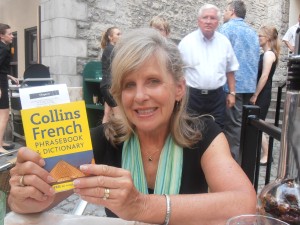 Bonjour from Quebec City in 2012!  Going to French Canada is a low cost European experience. Don't be afraid to get out of your comfort zone and experience a different culture. Don't get in a rut and take the same boring vacations—enjoy a new experience. The most fulfilled people know that experiences offer more happiness than things. Make memories with your family and friends. Take your bikes along and camp.
All the signs and free handouts are in both languages. The signs are in French/English. You'll be using the metric system and shopping at unique stores. It will be a wonderful education for all.
We took off for Canada through Michigan and traveled through Sault Saint Marie toward Sudbury. The currency is close to the same—-97 cents to our dollar with the Canadian advantage. We camped with our small trailer and cooked most of our own meals—eating healthy most of the time.  Taking a tour with others along the French River by boat was exciting. An eccentric older man wearing a beret  was our guide.  He took us on a hike pointing out various plants and then he jumped off a 15 ft. cliff inviting us to join him.
Our goal was to eventually visit Quebec and immerse ourselves in the Canadian-French experience. I saw the St. Laurence River for the first time and got emotional thinking of my grandfather who traveled that route to Wisconsin from Norway as a child.
I purchased a phrase book and began to practice phrases I remembered from college.  It was interesting to listen to the radio playing French tunes and giving the weather reports as 21 and hot today. A local stopped and talked with us about  the Black Hawks and Michael Jordon. He then talked about how he knew important people in the government and how he secretly still hoped Quebec would sucede.
Quebec City was spectacular. It dates back to 1607 when Samuel de Champlain settled the area. Notice the age and quality of the building below.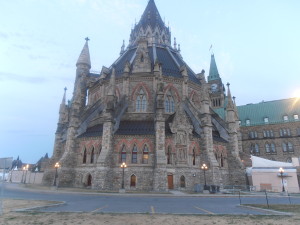 It was rare to hear English except in  the stores and restaurants.  It's not uncommon to hear French spoken in Canada; but when you get to Quebec, it's all in French. So go back in time and get the European experience for a lot less money and time.
We drove home through Montreal and the New York entrance. I have to say as much as I enjoyed being in a European atmosphere, I was ready to be back in the USA where English was spoken. We took the back roads home through the Adirondacks—stopping at Lake Placid, the site of the 1932 and 1980 Olympics.  It's a beautiful city.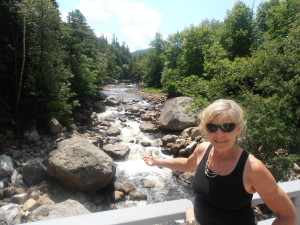 Escaping your comfort zone can make you happier, smarter, more confident, and more satisfied with life, while strengthening ties to the people you love. Talk with strangers. Don't over plan. Leave some room for new experiences and trust that things will work out for you.
And remember when diving  off a 15 ft. cliff on the French River to take your Canadian money out of your pocket. Au revoir