We went to the Door County 2012 Peninsula Plein Air Festival where our son Aaron was a feature artist. We all stayed at my brother's summer home in Fish Creek. While sitting around the kitchen table eating corn on the cob, our 5 year old granddaughter, Natalie, bit into her corn and discovered her front tooth imbedded in the cob.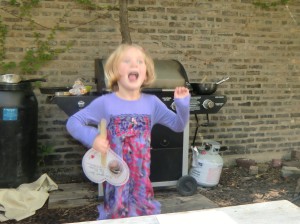 This was a surprise to us, since she never mentioned a loose tooth. She examined her treasure with a big smile. But then at bedtime, she had a perplexed look on her face. "I don't think I should put my tooth under the pillow in Fish Creek. It might confuse the Tooth Fairy who knows I live in Chicago," she said. I immediately had a vision of a fluttering Tooth Fairy dressed in proper fairy attire flying back and forth from Wisconsin to Chicago wondering where to land to retrieve Nata's rare jewel.
Her cousin Isaak said, "Nata, if you lose the one next to it, you can put a straw in the space and whistle. That was an intriguing idea to her. On her way home in our van, Nata held her treasure and examined it often. "I really don't want to give my tooth to the Fairy at all. I like it too much," she said. Immediately, I saw the deflated Tooth Fairy evaporate into the mist.
Contact information/sschuerr@gmail.com
To see Aaron's award winning art go to www.aaronschuerr.com